The #4 Rated Prostate Product: Antiiva
Antiiva - #4
Prostate Product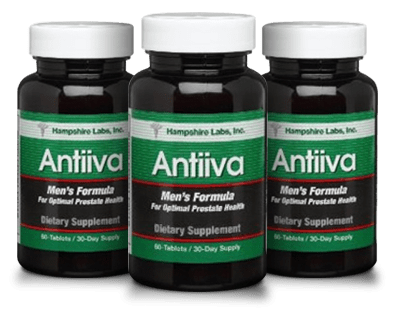 Supplement Facts
Servings Size: 2 Tablets
Servings Per Container: 30
Amount Per Serving
%DV
Beta Sitosterol
800mg
*
Include in the above:
Campesterol (from beta sitesterol)
40mg-60mg
*
Stigmasterol (from beta sitesterol)
28mg-60mg
*
Brassicasterol (from beta sitesterol)
0mg-12mg
*
Pumpkin Seed Oil
5mg
*
Isoflavones

(40% standardized extract)

25mg
*
Selenium (from selenium methionine)
35mcg
*
Zinc Citrate
10mg
*
*Daily Value (DV) not established
Other Ingredients: Terra alba, dicalcium phosphate, stearic acid, and magnesium stearate
According to the manufacturer of Antiiva, this all natural prostate support supplement can help those who are looking to maintain or improve prostate health.* It contains several key ingredients to help nourish any deficiencies that may be present and boost positve well-being.
EDITOR'S RATING
25 User Reviews
Introduction
This is a review of a product called Antiiva Men's Formula by Hampshire Labs Inc. and is intended to provide an educated overview about whether or not this product will suit consumers' needs. Hampshire Labs claims that Antiiva relieves the symptoms associated with an enlarged prostate.* These guys offer a 120-days money back guarantee, which is a great safeguard for consumers giving them plenty of time to ascertain is this product is for them. Please read on to discover more.
Ingredients
This all natural supplement is made using the following:
Beta Sitosterol Complex:

Campesterol (from beta sitosterol)

Stigmasterol (from beta sitosterol)

Brassicasterol (from beta sitosterol)
Pumpkin Seed Oil

Isoflavones (40% standardized extract)

Selenium (from selenium methionine)

Zinc Citrate
Other inactive ingredients include dicalcium phosphate, magnesium stearate, stearic acid and terra alba.
Dosage
The manufacturer recommends taking two tablets per day, preferably in the morning and in the evening, before going to bed.
Possible Side Effects
Since this is an all-natural product, you should not experience any side effects. However, if you do have any questions or concerns about this product, you should first speak with your doctor.
Price
One bottle of Antiiva containing 60 tablets costs $29.95. This is enough to last you one month of continuous use. The manufacturer offers discounts for buying in bulk, so if you order two bottles of Antiiva, you get one for free and when ordering three, you get three for free.
Guarantee
Customers unsatisfied with their purchase can make a return within 120 days of the original purchase. It is not clear if this applies to opened or unopened bottles. Contacting the manufacturer before making a return is not necessary, but customers are advised to include a copy of the original slip or a note to help identify their order. Shipping is not covered by the guarantee and must be paid by the customer. Reviews are pretty mixed when it comes to this product. Some individuals state Antiiva has been really efficient in treating their problem, but some express dissatisfaction because the product did produce the expected results.
Conclusion
Hampshire Labs Antiiva Men's Formula appears to be a good product, with a good combination of ingredients necessary for addressing the symptoms of an unhealthy prostate.* We liked that it is made in the USA and that it adheres to cGMP standards. It is unclear if it is manufactured in an FDA registered facility. We were also happy to see that Antiiva offers a very good money back guarantee. However, we were concerned that some customers were unsatisfied with Antiiva as it did not provide the results advertised by the manufacturer. Everyone is different and this may not be an indication that the product is of poor quality, it does reflect the experience of some individuals, though. We still think that overall, this is a good product, so we placed it in our #4 spot.
To learn more about our Top Prostate Products, click here.
Jacob Johnston
reviewed on and gave it a rating of
3
.