The #3 Rated Prostate Product: Prostanol
Prostanol - #3
Prostate Product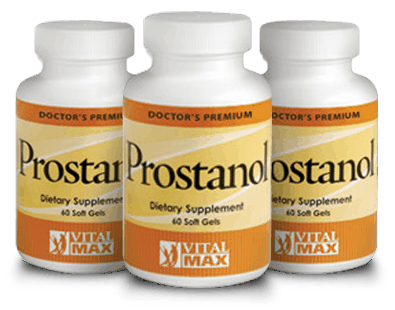 Supplement Facts
Servings Size: 2 Soft gels
Servings Per Container: 30
Amount Per Serving
%DV
Total Calories
12.44
Total Fat
1.23g
<1%
Vitamin B-6
10mg
500%
Zinc
40mg
266%
Saw Palmetto Berry ExtractStandardized at 85% fatty acids and sterols
350mg*
Methoxyisoflavone
25mg*
Chrysin
50mg*
Beta Sitosterol
20mg*
Proprietary Phytosterols
Campesterol
Stigmasterol
Brassicasterol
Sitostanol
25mg*
Nettle Root Powder Extract
50mg*
Phosphatidylcholine
21mg*
L-glutamic acid
100mg*
L-alanine
75mg*
Glycine
50mg*
Pumpkin Seed Oil
25mg*
Lycopene
15mg*
Cranberry Concentrate Powder
10mg*
*Daily Value not established
Other Ingredients: Gelatin, Soybean Oil, Glycerin, Purified water, Yellow Beeswax, Lecithin.
Prostanol is produced by VitalMax and contains a selection of significantly helpful ingredients that are said to be beneficial for helping maintaining optimal prostate health.* They offer a good guarantee for those consumers who are not happy with the results that they experience.
EDITOR'S RATING
31 User Reviews
Introduction
This is a review of Prostanol manufactured by a company called Vitalmax. This product claims to help support the body to overcome the symptoms that present with an unhealthy prostate.* They make several grand claims about the benefits it provides for urinary and sexual issues as well being able to reduce the swelling associated with BPH,* however, we felt that we would like to have seen some clinical evidence to back up their claims. If you like the look of the ingredients and are wondering if this particular prostate product is right for you, please keep reading this review to find out more.
Ingredients
Prostanol is made using the following ingredients:
Vitamin B6, Zinc, Saw Palmetto, L-glutamic Acid, L-alanine, Chrysin, Glycine, Nettle Leaf Powder Extract, Methoxyisoflavone, Pumpkin Seed Oil, Phytosterols, Phosphatidylcholine, Lycopene, Cranberry Concentrate Powder.
Dosage
One bottle of Prostanol contains 60 capsules, which is enough for 30 servings, as the manufacturer recommends taking two softgels a day, with a glass of water. It was not specified on the official website whether these softgels should be taken with or without food or whether to take them both at the same time or to split the dose, one in the morning and one in the evening.
Possible Side Effects
There are no listed side effects.
Price
Prostanol can be purchased in one, two, or four-month supplies. A one month supply costs $39.95. Two months supply comes at a price of $71.90. Four months supply is $131.80. Even with bulk discounts, this product is a bit expensive when compared with similar products made by other manufacturers.
Guarantee
The manufacturer offers a full money back guarantee for all customers who are not completely satisfied with the performance of this product. Even those who have emptied the bottles completely can ask for a return and get a full refund, within 60 days of the original purchase. Customer reviews were not present on the official website at the time of writing this review. This is often the case with new products, but a missing a review page raises concerns for us, questioning how well does it really work? However, we did find one review on Amazon, but unfortunately, it was negative.
Conclusion
Vitalmax Vitamins' Prostanol appears to be a good product, with a good amount of vitamins and minerals. This is very important for potential customers. We liked that Prostanol is backed by a risk-free 60-day money back guarantee, which shows the degree of commitment from the manufacturer. However, the price is a bit expensive, even with a number of bulk discounts, which is of course always a disadvantage. More importantly, we were concerned with the lack of reviews, positive or negative. We were unable to find any reviews on its website and when we did find a review, we only found one and it was negative! This is not very encouraging. Feedback is very important to ascertain how well a product works for various consumers and to see whether or not it stands up to its claims. Without any feedback from consumers, we do not have any indication of actual benefits. So, if you are willing to take a risk, then this product might be a good option for you.
Click here to learn about our Top Prostate Treatment products.
Jacob Johnston
reviewed on and gave it a rating of
3
.